Remember when we were really young, how all our ambitions revolve around being teachers, astronauts, policemen, firefighter etc..? (Well the 90s kids at least)
When I was young, I wanted to be a teacher but as I grew up I got pulled into the world of art & design which gradually made me the designer I am today, but there are still so many career paths I dream to be in:
Open my own cosy cafe
(cliche!)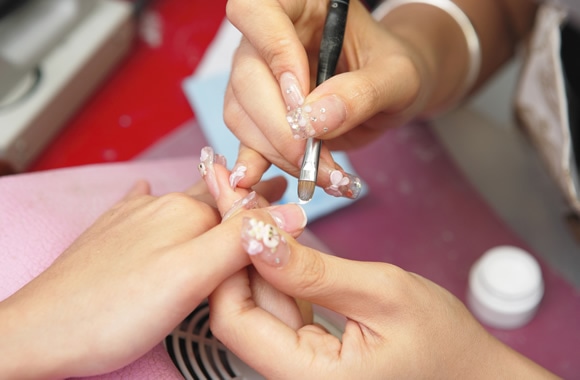 If you guys have been following my instagram, time to time you'll see me posting photos of my/my friend's nails and yess they are all done by yours truly (: I think it's really therapeutic and I love making nails pretty!
More often than not, before you can embark on your dream career path, you'd need some sort of qualification - be it a diploma or degree.
Personally, I feel that in order to survive in Singapore, it would be wise to get a degree.
Not just any other degree, but a degree in something you enjoy doing. No point in getting a degree in commerce when your interest and strength is in design just because your parents want you to take up something business, you'll only end up giving up halfway and wasting your time.


I know alot of Singaporeans now own a degree and the competition would be really tough so what sets you apart from the rest will depend on your application of skills, how well you handle people/workload and not forgetting your personality.


And one place to kickstart your exciting future plans would be..
"
For 50 years, PSB Academy has been successfully providing students with diverse opportunities to be keen learners.
PSB Academy's Certificates and Diplomas are widely recognised by some of the best universities in the world. They lead to advanced standing in various established institutions and are articulated to more than 20 overseas universities including our renowned university partners in Australia and the UK.
Being awarded 4 years EduTrust Certification, it distinguishes us as a leading provider of quality education, and affirms students of our stability, and our commitment to their learning and welfare
"
* Ranked 9th in Australia (Times Higher Education World University Rankings, 2013 - 2014)
* Ranked top 3% of universities in the world (Times Higher Education World University Rankings, 2013-2014)
* Associate member of The Group of Eight Deans of Engineering and Associates (Group of Eight Australia)
Pretty impressive right? That's not all!
PSB Academy also has alot of
programmes
to offer, from commerce to marketing & tourism to info tech!
Not only that, you can choose to be a full time or part time student and most of them are awarded either by Unis in Aussie/UK!
So... how is a programme outline like?
What are the career opportunities?
And most importantly, what does PSB Academy have to offer me as a student?
Bachelor of Information Technology
(click link to find out more)
The Bachelor of Information Technology
with a major in Enterprise Information Technology and Software Development & Applications
is a multi-disciplinary programme which hones your skills in developing application solutions and building robust business systems. This unique combination ensures that you are exposed to I.T. in various settings, so that you may apply your I.T. expertise to address real world problems and needs of modern organisations.
The Bachelor of Information Technology (BIT) is offered by The University of Newcastle, Australia (in conjunction with PSB Academy) &
accredited
by The Australian Computer Society (ACS).
Graduates from the BIT are eligible to apply to become members of The ACS.
PROGRAMME OUTLINE
Year 1 Intake:
January, May and August every year
Year 2 Intake:
August every year
CAREER OPPORTUNITIES
Analyst Programmer
Application Specialist
Business Analyst
Database Applications Developer
IT Administrator
Information System Officer
Project Manager
Programmer
1. Direct entry for A-level and Higher NITEC holders, obtain a degree in 24 months
2. Direct entry for relevant Poly Diploma holders and enjoy exemptions
3. Students may also enjoy the benefit of transferring or completing their studies on campus in Australia.
4. Click here for more info!!
WHAT PSB ACADEMY HAVE TO OFFER
Full-fledge campus with complete facilities! They even have a
virtual tour here
. Everything you need, you name it, PSB Academy has it!
Friendly lecturers - one of the main factors for me to decide if I was going to class or not back in polytechnic because I'd feel really unhappy studying when I meet grumpy lecturers. Over at PSB Academy, they have more than 600 full-time lecturers and associates with relevant industry experience to deliver lessons.
Vibrant student life - It's not all just about studying at PSB Academy, they also offer lots of sports/student clubs, community services, leadership programmes, student coucil and a whole lot more which you can browse through

here

!
If you're still not convinced...
PSB Academy is giving you

CA$H

when you sign up with 1 or more friends!
Sign up with a friend and get S$350 each (cash cheque)
sign up with 2-4 friends and get S$500 each (cash cheque)
(Applicable only for upcoming 2014 Aug intake)
This is my first time hearing of schools giving you cash when you sign up for their programmes.
SEMO SIA *Pulls a friend & flies down to fill in my application form*

Visit psb-academy.edu.sg NOWWWW to find your dream course!
xoxo,
tris